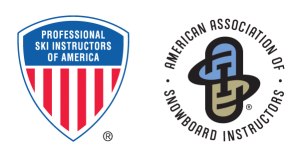 I am a certified member of the Professional Ski Instructors of America (PSIA) and the American Association of Snowboard Instructors (AASI). These two organizations certify instructors in the USA based on skiing/riding ability, teaching methodologies as well as technical knowledge. Look for these logos at your local resort school and individually worn by certified instructors.
National Awards/Certifications:
AASI Level 3 Snowboard certification (the highest certification that AASI offers)
PSIA Level 1 Alpine certification
Children's Specialist 1 (CS1) – a child specific accreditation
How I Became an Instructor:
I learned to ski when I was five years old in western Virginia and West Virginia. While I was living and working in Garmisch-Partenkirchen, Germany at the Edelweiss Lodge & Resort I learned to snowboard in 2007 and I have taught Snowsports since 2008. I spent 3 years teaching in the German Alps before heading to Big Sky, Montana to teach there for a winter. I left Big Sky to follow my dream of being a Peace Corps Volunteer in Ukraine for the next two years. While I was in Ukraine as an NGO Facilitator, I taught a group of high school students how to ski and snowboard in the Carpathian Mountains during both winters. Currently, I am working part time at Liberty Mountain Resort in Fairfield, Pennsylvania. I love skiing and snowboarding, but most of all I love to teach others so that they will love it as much as I do!